Our rear loads are fully compatible with kick-bar and winch collection systems. They feature Steel reinforcement underneath for extra rigidity.
Features:
Trunnion bar sits underneath specially designed molded lip
Cable guard on lid bar to prevent lid rod bending
Steel plate in the rear of the container protects it from cable during lifting
Steel cable ring
Up to 30% lighter than same size metal containers
Up to 30 decibels quieter than comparable metal containers
Available with or without casters and trainable for easy moving
Low maintenance, dent resistant, easy to clean and no painting required
Body will not rust or corrode
Dual lids are standard and containers accommodate universal lids
Lid rods are one piece metal to keep lids securely attached
Industry standard 6" casters
| Model | Width | Depth | Height | Load Rating | |
| --- | --- | --- | --- | --- | --- |
| 2 YARD RL | 78″ | 44″ | 51″ | 1000 lbs | |
| 3 YARD RL | 78″ | 50″ | 67″ | 1500 lbs | |
Note: Container specifications vary slightly based on product mold
Rear Load Plastic Dumpster Options & Accessories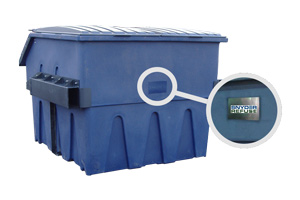 Post Mold Labeling
Place company logo here with a custom in-mold plate or post mold graphic
In-mold plate area is 9.25"w x 5.25"h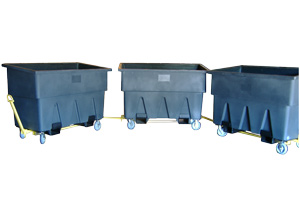 Universal Trainable & Bottom Pockets
Trainable bar connects to spring-loaded hitch, securely attaching containers for smooth towing
Universal Trainable and bottom pockets available on all 2yd, 3yd and 4yd sizes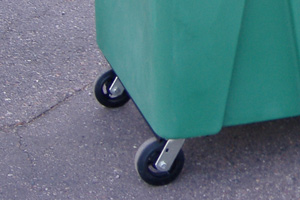 Casters & Recycling Slot
Standard 6" rubber on steel casters available
Heavy Duty 8" casters available for trainable applications
Neoprene washers used to seal bolted caster plates to prevent container leaking
6×57" Recycling Slot available on all dumpsters.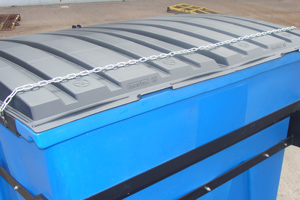 Locking Chain
Locking chain option available for our rear load, compactor and side loads