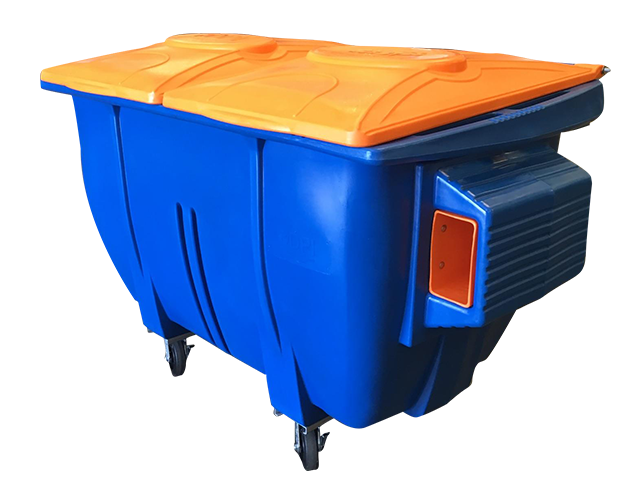 Plastic Dumpsters &
Plastic Refuse Containers
American Made Dumpster's Plastic Dumpsters are a sustainable option for the waste and recycling industries. Lightweight, durable, and low-maintenance, plastic dumpsters deliver superior functionality and aesthetics compared to traditional steel and aluminum dumpsters. Custom colors and embossed branding enable a variety of customers to differentiate themselves from their competition.
What Makes Plastic Dumpsters Better?
One-piece molded construction improves durability and strength performance
No refurbishing required
Double-walled components improve overall performance and handling
Easy to clean—resistant to UV rays, chemicals, saltwater, and petroleum-based liquids
Improved safety characteristics with no sharp edges
Quiet pickup and disposal, allowing neighborhood-friendly drop-offs and collection in noise-sensitive areas
AESTHETICS OF PLASTIC DUMPSTERS
Will not rust and molded-in, customizable colors are resistant to fading while concealing effects from daily wear and tear
Smooth exterior provides advertising and branding space for graphics and logos
Easy to keep clean and maintain a polished surface — resistant to UV rays, saltwater, and most chemicals
Improved public perception of waste containers over time
PLASTIC DUMPSTERS ARE PORTABLE
Improved weight reduction—one-third less weight compared to steel containers
Stackable for improved shipping SUSTAINABLE
Each unit includes a five-year warranty
Made with 100% recyclable, FDA-approved polyethylene plastic
Environmentally friendly when compared to steel containers
SERVICES FOR PLASTIC DUMPSTER CUSTOMERS
Life-cycle cost analysis
Financing available